News

Colour Flex open 30th June 2022 until 24th July 2022 at Terrace Gallery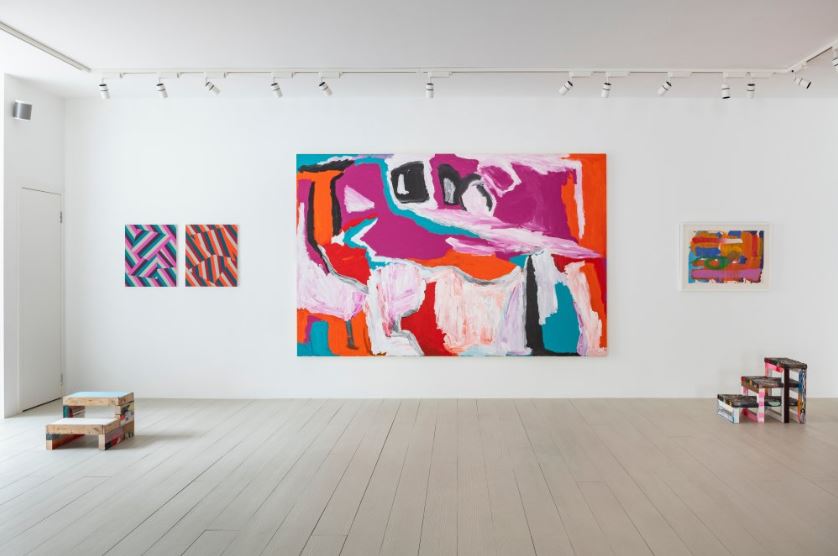 Two Lineae paintings are included in the exhibiton Summer Reflections at JGM Gallery, opened June 2020

Quartet is now open at JGM Gallery, until the 2nd March 2019.
Delighted to receive the JGM Gallery prize in the Wells Art Contemporary at Bishop's Palace, Wells, in October 2018.
https://
www.wellsartcontemporary.co.uk/news/


Upcoming at Tannery Projects, the group exhibition I've organised featuring Ralph Anderson, Katrina Blannin, Tom Hackney, Nancy Milner and myself.


Precision of Thought at SE9 Container Gallery, London, opens 22nd April and runs until May 27th.
Artists wall from the ColArt stand at Creative World, Frankfurt. The mural was 5m x 3m, using the new Liquitex Cadmium Free paints with the original Cadmium colours, illustrating the same pigment quality.



Installation view from Imperfect Reverse exhibition at Ruskin Gallery, Cambridge, November 2016 -January 2017.
SATURATION POINT OPEN STUDIO

Saturation Point will be opening a special event on the weekend of the 24/25 September to celebrate the 5th anniversary of the founding of the project by Patrick Morrissey and Hanz Hancock.
Featured Artists
Duncan Bullen, Deb Covell, Nathan Cohen, Chris Daniels, Reiko Kubota, Ben Gooding, Fiona Grady, Hanz Hancock, Andrew Harrison, Hannah Hughes, Silvia Lerin, Patrick Morrissey, Laurence Noga, David Oates, Brigitte Parusel, Andy Parkinson, Jonathan Parsons, Sarah Sparkes, John Stephens, Wendy Smith, Piers Veness & Mary Yacoob.
Studio 14, 2nd floor, ACME Studios, 165 Childers Street, Deptford SE8 5JR
Doors open 12 -5pm
Nearest rail Deptford (High Street) / DLR Deptford Bridge / New Cross Overground


Upcoming exhibition 'Imperfect Reverse' opens at Camberwell College of Arts project space on the 27th October 2016.
Summer Mix exhibiton, Turps Gallery, July 2016.

Installation view from Marmite Prize for Painting V, Block 336, London.
My painting Comminuo IV has been selected for the Marmite Painting Prize, taking place at Block 336 gallery in London, and Highlanes gallery in Drogheda.

Interview with Saturation Point now online at
www.saturationpoint.org.uk/Chris_Daniels.html
February 2016.


My painting Scuta XXII was shown in the exhibition London Painting Survey, September 2015, at Blackhorse Lane Project Space, London.
I have six paintings installed in the upstairs of Cafe Murano Covent Garden, opening 29th June 2015.

Showing an artist's book at Horatio Jr exhibition Union of Voices, December 2014-January 2015


Forthcoming exhibition at The Major's Parlour with Julian Brown, September 6th 2013.
December 2012, selected in the Motorcade/Flashparade National Open 2012



August to September 2012 selected in the Artworks Open
June 2011, installation shot of Creekside Open

June 2011, improvement from an unknown child, part of Deptford X at APT.
April 2011, selected in the Creekside Open 2011 at APT gallery in Deptford, 9-26th June.
www.creeksideopen.org/


June 2010, paintings shown in group exhibition "Blood Orange" at Art Daegu, South Korea.
© Chris Daniels